A smart ring is a wearable electronic device with advanced mobile components that combine features of mobile devices with innovative features useful for mobile or handheld use.  Put simply, a smart ring is a ring that's got some kinda of tech built into it, whether that's a NFC chip or sensors, like an optical heart rate monitor or accelerometer. 
Like smart watches and smart bracelets, smart rings are riding the cultural obsession with wearable technology.
By wearing a smart ring, you can untether from your phone, or at least separate yourself from the lure of the screen. The phone can stay in your purse while you mingle at a party. The ring can be programmed to let you know when the babysitter texts or an important work email needs to be answered.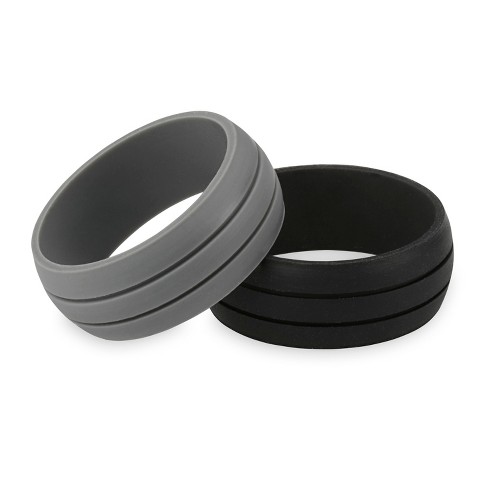 WORKING AND COMPONENTS
It consists of four different sensors, an infrared optical pulse measurement to read your pulse, a 3D accelerometer to detect movement, a gyroscope to detect movement and balance and a body temperature sensor.
It also has a battery on-board and a microcontroller. That tech is fitted between a titanium and diamond-like carbon coating (DLC) on the outside and a non-allergenic, non-metallic, seamless molding on the inside.
 Smart rings can communicate directly with smart phones or compatible devices (such as personal computers) through a variety of applications and websites. Some smart rings can operate without the need of a mobile phone, such as when interacting with back-end systems on the cloud through or performing standalone functions such as activity tracking.  
Through the use of small microphone, or bone conduction, some smart rings can allow the wearer to make phone calls, while paired with a compatible mobile phone. Smart rings are also able to notify the wearer of incoming calls and messages, by means of vibrating or lighting up.
ACTIVITY
Similar to smartwatches, smart rings utilise in-built sensors to provide activity and wellness tracking. For example step and heart beat tracking, temperature and sleep tracking (through measuring heart beats and movements) and blood flow. The smart ring form factor contains enough space to contain the same components as smart watches. However, due to size constraints, smaller components are typically used in current smart ring products in market, such as smaller and less accurate accelerometers, and smaller batteries leading to lower battery life than smart watches.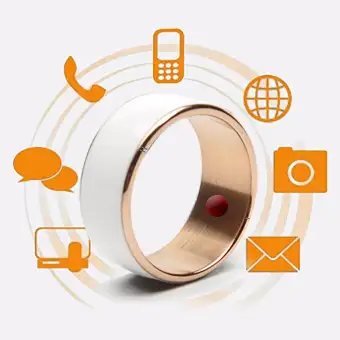 USES
One of the main features of the smart ring is to serve as a near-field communication device, effectively eliminating the need to carry credit cards, door keys, car keys, and potentially even ID cards or driver's licenses. Other uses include connection to a smartphone in order to notify the user of incoming calls, text, emails, and more; use as gesture-based controller, allowing the user to perform a variety of actions with a simple motion of the hand; and measure steps, distance, sleep, heart rate, and track how many calories the user consumes.
You can get a smart ring of your own at
Amazon
SOURCES
Techradar, Wikipedia, Electronics.howstuffworks